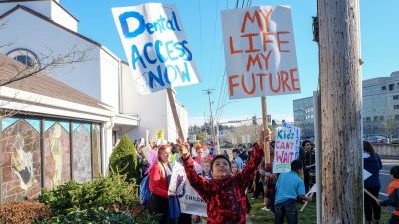 A Reflection on the Two-Year Anniversary of Donald Chi's, DDS, PhD Groundbreaking Study.
This week marks the two-year anniversary of an important milestone in the dental therapy movement – the publication of Donald Chi's, DDS, PhD seminal study regarding the efficacy of dental therapy in the Journal of Public Health Dentistry.
Drawing on 10 years of data from the field (2006 to 2015), the groundbreaking study found that dental therapists significantly improved outcomes for their Alaska communities resulting in lower rates of tooth extractions and more preventive care.
A board-certified pediatric dentist, health services researcher and associate professor of Oral Health Sciences at the Washington School of Dentistry, Dr. Chi was part of a University of Washington research team that analyzed extensive data from the Yukon-Kuskokwim Delta in Alaska, where dental therapists have been serving Native communities since 2006.
While he was a dental student in the early 2000s, Dr. Chi asked the tough questions about dental therapy, a profession still in its infancy in the U.S. at the time: Are dental therapists able to provide high quality care? Is it safe? Will they actually improve access?
Later the data derived from the study he led put took it to the next level by asking: Are they serving their purpose? Are dental therapists improving outcomes for the communities they serve? The answer: YES.
The study paved the way for dentists like the members of the National Coalition of Dentists for Heath Equity, which launched last year, to unite around dental therapy as an evidence-based solution for assuring oral health equity and increasing access to care. The coalition supports the utilization of dental therapists as a means of increasing access to dental care, expanding dental education opportunities and diversifying the dental profession.
Since the study was published, significant progress has been made across the country. Dental therapy is authorized in some or all settings in 12 states with authorization being considered in over a dozen more.
In Dr. Chi's home state of Washington, legislation is being considered which would authorize dental therapists to practice statewide and increase access to oral health care for Washington kids and families. This is a long-awaited and eagerly anticipated development for the 37 of the state's 39 counties that have too few dental professionals to meet their local needs.
We know dental therapy matters because it makes a considerable difference in the lives of the people who need it most – just look at the data.
Peer-reviewed publications and scientific literature are critical to the widespread acceptance of innovative solutions like dental therapy. Dental therapy is spreading rapidly across the country because of the growing body of evidence that demonstrates that it works and the study by Dr. Chi is foundational to that effort.
###