Dental therapists are delivering oral health care to thousands of people in the United States who otherwise would not be able to receive it. But not everyone has the opportunity to see a dental therapist.
Community Catalyst and the National Indian Health Board are launching the National Partnership for Dental Therapy to elevate the visibility and broad, multi-sectorial support for dental therapy. We believe all communities could benefit from dental therapists, but the focus of the Partnership is improving access to much needed dental care to communities where the needs are the greatest.
Please join us by signing on in support.
History of Dental Therapists in the U.S.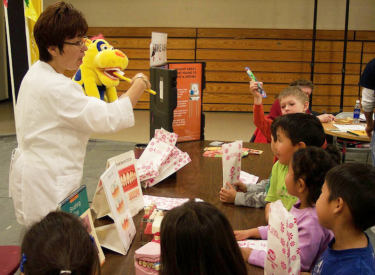 Alaska Dental Therapist Aurora Johnson shows a group of kids how to properly brush their teeth. (Photo credit: W. K. Kellogg Foundation)
Dental therapists have worked around the world for almost a century. The first U.S. dental therapy program was initiated by Alaska Native/American Indian leaders to address chronic dentist shortages in their communities. The ability of dental therapists to travel to remote areas quickly made an impact. They are now expanding their work to a wide range of dental shortage areas and traditional office settings in other states.
In Minnesota, similar oral health care gaps for vulnerable populations led a coalition of consumers, educators and oral health leaders to launch a campaign to authorize dental therapists in 2007. The Minnesota legislature authorized dental therapists in 2009. The first classes graduated in 2011.
In 2015, the Commission on Dental Accreditation, the same body that approves education programs for dentists, established national accreditation standards for dental therapists. Currently, three schools are graduating providers, two in Minnesota and one in Alaska. Colleges and universities in Vermont, Arizona and Washington are preparing to be regional education institutions.
Today, dental therapists are authorized in some or all settings in Alaska, Arizona, Michigan, Minnesota, Maine, Vermont, and Washington, as well as through a pilot program in Oregon. Nearly a dozen more states and tribal governments are also in the process of exploring authorization of dental therapists.
Co-Chairs
Community Catalyst and The National Indian Health Board's Tribal Oral Health Initiative