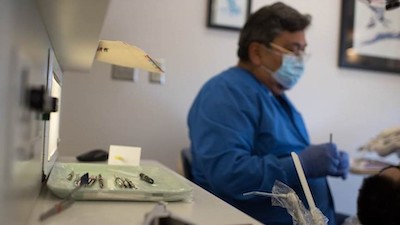 Today, the National Partnership for Dental Therapy is thrilled to welcome The National Coalition of Dentists for Health Equity (DHE) as its third Co-Chair.
The National Partnership was initially launched in early 2019 when Community Catalyst joined forces with the National Indian Health Board (NIHB) to connect a movement we've seen in states across the country: consumer advocate groups, tribal organizations and others joining together to advocate for more access to oral health care in our most underserved communities.
At Community Catalyst, we believe the most informed practices are those developed through collaboration. The National Partnership for Dental Therapy embodies the critical partnerships that have moved the dental therapy effort forward, and positions the movement for the future.
Having worked on this issue for nearly a decade, I'm often asked if dentists are supportive of dental therapists. My answer is a resounding yes.
This new partnership underscores what we have known for years--dentists not only support dental therapists, they helped create them, they educate them, they supervise them, they employ them and they are a part of the system that regulates them. The DHE is comprised of nationally respected dentists and serves as a representation of the dental community's support for dental therapists.
The first U.S. dental therapy program launched in 2004.The intentional design of this evidence-based program is enhancing the dental team, diversifying the oral health profession, innovating delivery and making care more accessible to communities. The result? Better health outcomes.
Unfortunately, as states authorize dental therapists, legislatures are making it harder for them to be successful. They are adopting restrictive language that excludes some community educational institutions from the process and adding educational hurdles that are not consistent with the national standards set by the Commission on Dental Accreditation, the same body that oversees standards for dentists and dental hygienists.
At the Partnership, we believe states can do better for communities with the greatest oral health access needs. A recent report developed and released by a consortium of experts, including several of our DHE partners, addresses the state-to-state variance and makes recommendations for how to create a strong and effective dental therapy program.
Authorizing evidence-based programs ensures dental therapists can be employed across all the states and gives communities the flexibility they need to build programs that can both recruit a local workforce and secure a fast track to advancing the skillsets of the existing oral health workforce.
We are excited to welcome DHE to the National Partnership for Dental Therapy as we work together to ensure the movement continues to spread across the country and more people receive the oral health care they need.