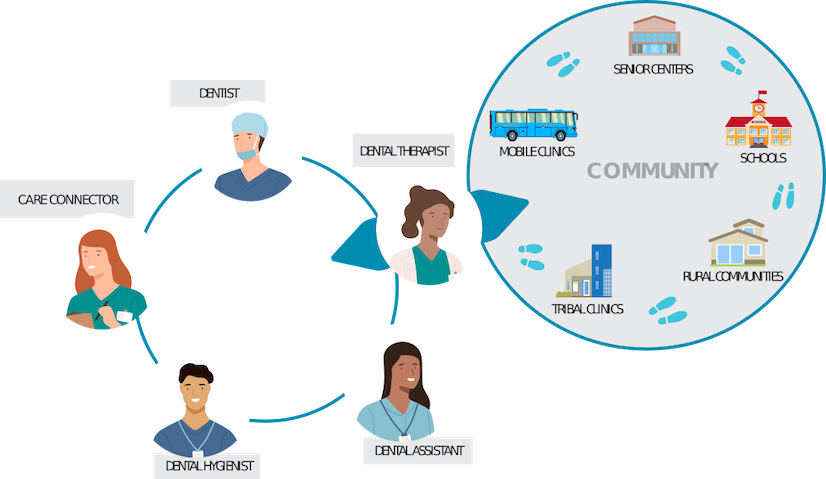 What's it like being a dental therapist? Do patients like them? How do they impact their clinical team? In the last of a three-part webinar series exploring dental therapy, Community Catalyst hosted a conversation with three dental therapists from different states to address these questions. Their diverse experiences illustrated how the profession is an effective solution to bring oral health care to more people who need it, while also improving care in other ways.
Tera Bianchi, Director of the Dental Access Project at Community Catalyst, moderated the discussion. Speakers included these seasoned dental therapists:
Stephanie Woods, at Maniilaq Health Center in Kotzebue, Alaska
Danae Seyffer, at Community-University Health Care Center, a federally-qualified health center in Minneapolis, Minnesota
Rochelle Ferry, working with the Port Gamble S'Klallam Tribal Community in Washington

Click here to watch the webinar recording and see below for some highlights from the conversation.
Dental therapy's mission to expand access to care aligned with my values
Danae Seyffer reminisced back to 2009 when Minnesota passed legislation for dental therapy and opened its first dental therapy educational programs. In learning more about this profession, she realized its purpose aligned with her values and felt drawn toward pursuing a career in dental therapy. Danae shared, "dental therapy was created to increase access and improve care to underserved communities." Both her parents came from underserved communities; her mother is an immigrant from Thailand and her father grew up in a very rural part of the Midwest. Aligning with national data, her dad lacked dental coverage and both parents faced barriers to care, such as not knowing about prevention.
Tera Bianchi explained that, since dental therapy was designed to help communities gain access to services, its scope of practice is very intentional. Dental therapists are trained to first address someone's immediate oral health needs, such as filling a cavity (restorative care) or extracting a tooth. Then, they teach people about prevention. It fills a big information gap, placing people on a path to better oral health.
Patients value increased access to high-quality, compassionate care
Stephanie Woods recalled that, when she began as a dental therapist in a remote Alaskan community, "that was the first time that any of those villages had ever had a full time dental provider..." Dental therapists expand care to people in rural and urban areas by helping clinics become more efficient and cost-effectively allowing care to be delivered outside traditional dental clinics. All panelists agreed they've helped their clinics serve more patients and lower the wait time for appointments.
Dental therapists take time to build trusting relationships with their patients. Rochelle Ferry noted how, while her job was initially a new concept to many of her patients, they quickly grew to value and trust her. Once she explained her role and how it related to other providers, it didn't take long for "everyone to be comfortable" with dental therapy.
Everyone on the dental team gains from dental therapists
Other oral health providers feel the benefit of dental therapy. It helps them work at the top of their license as their overall practice operates more effectively. Dental therapists provide routine care like exams and fillings, giving dentists more time to do complex procedures. Further, Rochelle, Stephanie, and Danae all shared how they and their colleagues—whether dentist, dental hygienist, or dental assistant—quickly acclimated to each other. Today, they rely on one another, consulting on strategies to best care for patients.
Danae noted her unique perspective at a health center that has medical, mental health, and other health providers on site. She shared that integrating dental and medical care is "something we need to learn to do if we want to care for our patients as a whole." Experts elsewhere are recognizing how dental therapists can support innovative solutions to bridge gaps between dentistry and medicine.
Dental therapy provides lasting benefits to communities
Attendees also heard from a guest, Dr. Mary Williard, who played a key role developing the Alaska Dental Therapy Educational Program and currently serves as its clinic director. In August 2020, that dental therapy program (housed within Ilisagvik College) was the first program to be accredited by the Commission on Dental Accreditation (CODA).
Dr. Williard echoed how dental therapists provide the unique services that people need when they've faced barriers to getting care. That includes extractions and restorative care, followed by preventive services. She also emphasized the profession's many "intangible" benefits. For example, as dental therapists help children improve their oral health, they're supporting kids' self-esteem and future employability. Dental therapists practicing in their own, marginalized communities serve as professional role models, showing youth they can "go away to school and come back home and have a meaningful job. And then they provide this economic engine in the communities," delivering lasting benefits for everyone.
Our panelists' experiences illustrate that integrating dental therapists in existing oral health teams boosts clinics' efficiency, increases access to care, and has other far-reaching benefits. It's a smart solution to improve oral health care.