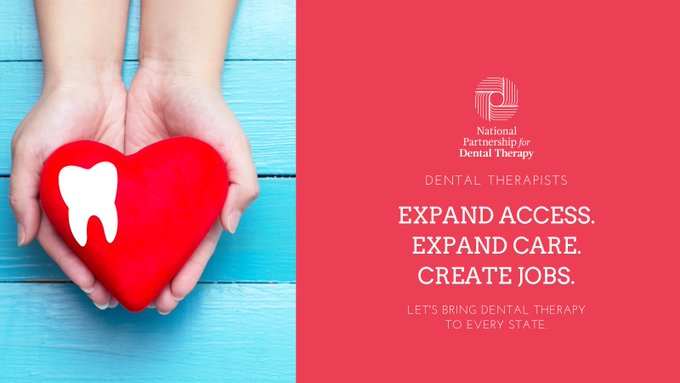 A panel of experts convened by Community Catalyst recently highlighted the economic benefits of dental therapy. The second of a three-part webinar series, panelists addressed how people in need of dental care, providers, and communities all see a big return when leaders invest in the profession. Each panelist offered a unique perspective, addressing the issue from the standpoint of consumer, educator and employer. The message they carried was the same: Dental therapy is a cost-effective solution to close dental access gaps that disproportionately harm Black, Brown, indigenous, and low-income people.
Here's a review of highlights from each expert:
Colin Reusch, Senior Advisor on Oral Health Policy, at Community Catalyst's Dental Access Project, set the stage. He reminded us how oral health matters to our overall health and wellbeing—and how systemic barriers, such as high costs, block many people from getting needed care. Dental disease can hurt our physical and mental health, and interfere with our success in school and at work. And today, high out of pocket costs and other barriers push dental care out of reach, most harming people of color and tribal communities. Consequently, avoidable problems can become more expensive emergencies. By contrast, unlocking access to dental care can boost family economic security and generate savings for communities. For example, greater access to oral health care would save public resources. In recent years, dental-related emergency room visits cost the U.S. health system $2 billion. But solutions like dental therapy, which help more people access care, could prevent nearly 8 in 10 of those costly, painful visits.
Tera Bianchi, Director of the Dental Access Project at Community Catalyst, provided an overview of how dental therapists are designed to work in areas that have historically had a lack of regular access to routine dental care. By recruiting providers from communities and bringing this care to community settings, dental therapists are breaking down barriers and building trusting relationships between oral health providers and the people they serve.
Darren Greeno, Executive Dean for Instruction at Skagit Valley College (SVC), in Mount Vernon, WA, shared his experience building a dental therapy education program. SVC created the program in collaboration with the Swinomish Indian Tribal Community. It is designed as a community-based education program—that is, one that trains students who will return to serve their own communities. This pipeline builds a diverse oral health workforce that can close dental access gaps, while offering historically marginalized students a more affordable educational option than dental school. It also provides a pathway to an economically stable career. Dental therapy graduates can access well-paying jobs in a high-demand profession. Darren noted that these economic gains have benefits that "ripple out from that individual throughout their community," as workers can support their local economy. Currently dental therapists in Washington are restricted to only working in Tribal communities but there is significant interest in lifting these restrictions, allowing the dental therapists to be recruited and serve in communities throughout the state. SVC is building a program to be scalable so that it can serve as a dental therapy training hub for the Pacific Northwest, as more states in the region authorize the provider. The SVC program is currently seeking accreditation by the Commission on Dental Accreditation and hopes to open its doors in fall 2022.
Sarah Wovcha of Children's Dental Services (CDS), a dental practice with 711 sites throughout Minnesota, provided an employer's view. CDS serves more than 37,000 children in low-income families statewide, many in dental care deserts. They deploy mobile dental clinics to reach people in need, setting up at libraries, homeless shelters, schools, and WIC clinics, among other sites. At these community-centered locations, dental therapists provide the bulk of care. CDS first incorporated dental therapists on their team in 2011. As other clinics in Minnesota have found, dental therapists have been crucial to CDS' ability to expand access to quality care. Sarah also explained dental therapists have been "vital to our financial viability." The cost effectiveness of employing dental therapists has allowed the nonprofit clinic to stretch their limited budget to provide care to more kids. Emphasizing the magnitude of these benefits, Sarah said, "Nothing has been a game-changer in terms of oral health access to the extent that dental therapy has. Not only is it a game-changer in terms of improving access, but it's been much more economically viable than any other fix." Today, 10 years after hiring its first dental therapist, CDS employs ten dental therapists and has doubled the number of community sites where it provides care.
This valuable conversation made clear that dental therapy offers economic benefits for consumers, clinics, and communities. It offers an affordable training opportunity for students eager to enter the oral health profession and serve their community in a career that provides economic security. The profession is diversifying the oral health sector, and lifting barriers for historically marginalized people struggling to get needed care. At the same time, dental therapy safeguards public dollars and helps private clinics succeed. Given this range of economic benefits, it's time for policymakers to invest in dental therapy.