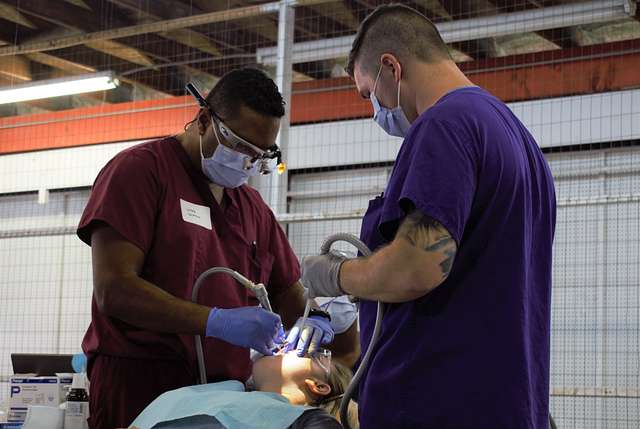 While serving as dental director for the Cincinnati Health Department, I led a nonprofit dental clinic that was among the largest in the nation to serve people facing homelessness, many of whom were U.S. veterans, like myself. I've seen how fixing a vet's dental pain with quality care can get them one step closer to recovering from a substance use disorder. I've heard from dentists about how common it was to care for veterans who resorted to pulling out their own teeth after treatable conditions worsened when they couldn't get timely care elsewhere.
Both Congress and the Biden administration can take steps to honor America's commitment to our veterans by guaranteeing them the dental care they need. I was heartened to see a bill introduced by Sen. Bernie Sanders in Congress to improve the sorry state of U.S. veterans' dental coverage – the Veterans Dental Care Eligibility Expansion and Enhancement Act (S. 3017). A similar bill, the Dental Care for Veterans Act (H.R.914), was introduced last February by Rep. Julia Brownley. In addition to legislative efforts, the U.S. Department of Veterans Affairs (VA) can adopt proven solutions like dental therapy to ensure the federal health system can fully serve these heroes.
Current data shows that the problems I witnessed at my old clinic persist. More than 8 in 10 vets today aren't eligible to get comprehensive dental care through the VA health system. Instead, many are forced to pay out-of-pocket or jump through other hoops to get the care they need. In addition, the VA's own data shows that many vets who are eligible for care still aren't receiving it.
When policymakers push dental services out of reach, the harm goes beyond our mouths and teeth. It can risk our physical and mental health, systems of the body that may already be burdened from military service. The dangers fall hardest on people with low incomes, tribal communities and people of color who confront systemic racism in health care. Fixing these inequities is a central focus of the National Coalition of Dentists for Health Equity, which I lead.
Good oral health benefits our overall health at every age. Past VA studies have shown that supporting veterans' dental health in hospitals and nursing homes can prevent costly, painful conditions like hospital-acquired pneumonia. Good dental health also helps people better manage chronic conditions like diabetes and heart disease – safeguarding our wellbeing and conserving health care dollars.
Sen. Sanders' bill would end eligibility bans that keep many veterans from accessing dental care through the VA system. The measure would expand eligibility for dental care to all veterans receiving VA medical care. It would also support vets' education about healthy dental habits; increase the availability of care beyond traditional VA clinics, such as through telemedicine; and incentivize more dentists to become VA providers.
But this legislative solution alone will not fully resolve the problem. The administration can do even more to improve access to care for all vets needing services. One ideal approach is to add dental therapists to its ranks of oral health providers, in addition to dentists.
Dental therapists are trained to provide high-quality, routine dental care, such as exams, fillings and other preventive services. Years of evidence show that they are effective in expanding access to critical services, improving people's oral health. They are particularly beneficial to communities who the dental system has left behind due to harmful policies like the VA's eligibility restrictions.
Dental therapy is also very cost-effective. Research proves that dental therapists help make dental clinics more efficient, including at nursing homes that serve veterans. When dental therapists are added to a clinical team, they focus on preventive and routine care. They free up dentists to focus on more complex, higher-paying procedures. Since dental therapists also cost less than dentists to employ, they can deliver care to more people while saving money.
This data points to a clear path for the VA to complement congressional action. The agency can directly hire dental therapists to overcome obstacles to care facing today's veterans. This would conserve federal resources while meeting the continued demand for care.
Our leaders must make good on their promise to support the health and wellbeing of our friends, family members and neighbors who served our nation. Policymakers in Congress and the administration can make progress by advancing S. 3017 and adopting dental therapy as an effective way to enhance the federal dental care workforce. The vets I met during my military service and at the clinic in Cincinnati deserve nothing less.