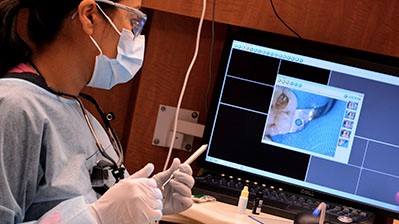 In response to significant issues challenging health equity – and especially oral health equity, a group of dentists came together last month to formally establish the National Coalition of Dentists for Health Equity (DHE). The platform is committed to supporting evidence-based models and modalities that demonstrate effectiveness at improving health equity like dental therapy.
For the first time, DHE brings together an increasing number of dentists from across the country who have distinguished themselves in the areas of research, education, public health, nonprofit and private practice, who are committed to evidence based solutions and who are willing to take a stand where their dental professional organizations have not.
We're honored that the National Partnership for Dental Therapists has invited us to be a third co-chair of this national effort. Our participation in the Partnership completes the circle by joining dental research, public health, education and public and private practice with community advocates.
The Partnership brings a synergy for a much higher national visibility and greater credibility for dental therapists and their ability to improve the oral health of our nation.
Many of our members have worked closely with dental therapists for a number of years and, as a result, are intimately familiar with the high quality of care they provide. The following are testimonies from a small sample of DHE members:
Mary Williard, DDS:"In just 15 short years, dental therapy has already started to erase oral health inequities in Alaska Native communities where more coverage by dental therapists in a community leads to fewer extractions and more preventive services. Health equity requires us to address other inequities. Dental therapy education in Alaska has challenged the existing inequities in accessing higher education and the ability of underrepresented minorities entry into the oral health professions- 98% of graduates from the Alaska Dental Therapy Educational Program are Alaska Native or American Indian."

Leon A. Assael, DMD:"I have seen our dental therapy students from Minnesota through the years become committed, capable and compassionate oral professionals. Our dental therapists are emerging leaders in oral health and remarkable resources to the communities and dental practices they serve. My hope is that other states see the Minnesota experience and improve health care in their own communities with dental therapists as well as Minnesota has."

Steven Krauss,DDS, MPH, MBA, EMT-P:"We all have the moral and ethical imperative to enhance the health and welfare of our fellow humans. As concerned and practical minded dentists, we seek out and aggressively promote evidence based, socially beneficent paradigms that will improve the delivery of quality dental care, especially to those with limited prior accessibility. Utilization of dental therapists as part of a team-based approach to dental practice is a proven safe, efficient, and cost-effective free market approach to assisting in the delivery of quality dental care to everyone, while enhancing the personal, professional, and economic satisfaction of dentists. It is a win-win-win model."
The power of the collective voice and the enthusiasm of the dentists who make up DHE assures the American public that dentists are with them in the fight for oral health equity. Dental therapy will prevail. Because of this proven model, millions more Americans will have access to affordable, available, accessible and culturally appropriate care.
Dr. Hill serves as the Founding Chair of the National Coalition of Dentists for Health Equity (DHE)
Photo courtesy of Normandale Community College, Dental Therapy Program