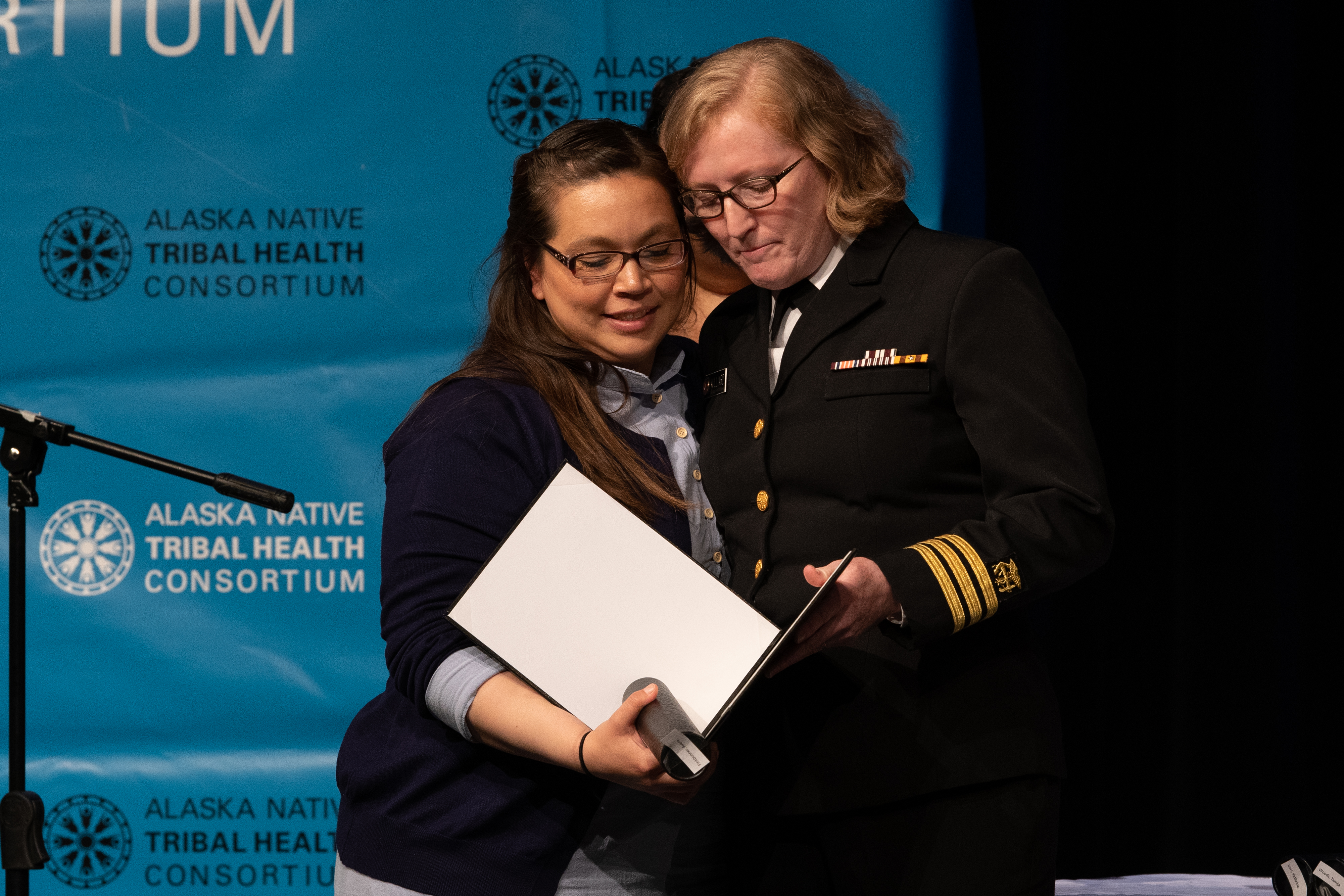 "People really will do the most incredible things, under impossible conditions, as long as they have the right reasons. And the right reasons are always children, family and community."
-Valerie Davidson, president/CEO, Alaska Native Tribal Health Consortium
Mary Williard has had two decades to reflect on the movement she joined soon after she first arrived in Alaska in 1998 – the movement that dramatically improved the health of tens of thousands of Americans, opened a door to new career pathways, and survived a well-funded crusade to crush it.
She takes fierce pride in knowing she worked successfully alongside Alaska Native people, community leaders and advocates to establish the first dental therapy program in Alaska and then for the nation. But she holds that emotion uneasily given what it took to get there—standing up to her professional peers and the institution of dentistry.
Williard is a dentist. She went to Alaska with one objective: provide dental care to the people who needed it most. "My dad was a family doctor who always took time to see his patients, even after hours," says Williard. "I always wanted to be like him."
She didn't know it would be so hard.
"I started out as a naïve kid working in rural Alaska, completely overwhelmed with the amount of need and the disease levels," says Williard, the founding director of the Alaska Dental Therapy Education Program. "There was never enough time. We'd go back to the villages year after year and there would be just as many people in desperate need of care."
There had to be a better way. With limited time and deep need, dentists like Williard had to triage patient care. This frequently meant focusing on people with the most severe oral disease, pulling their teeth. But that wasn't breaking the generational cycle of dental disease or related health problems. Alaska Natives people needed consistent routine dental care based in the community, to treat dental disease early, help them keep their natural teeth, and improve their oral health over the long term.
"It was just so clear to me that change was needed. When I heard about dental therapists (in other countries) I thought this is a great idea," Williard remembers. "I thought everyone would see it the same way."
Dental therapists are oral health providers that have practiced for over a century globally and now work in more than 50 countries. Working under the supervision of a dentist, they provide commonly needed dental services, like exams and filling cavities. Dental therapists are specifically trained to extend this care to chronically underserved communities. Expanding capacity and efficiency, they complement the work of dental hygienists and others on the oral health care team.
The Alaska Native Tribal Health Consortium (ANTHC) saw dental therapists as a way to achieve a few important goals. First, it could enable Alaska Native people to become trained to care for their own community, putting a sustainable solution in their own hands. Second, it could help close the gap in oral health disparities and provide on-going community-based care in remote villages. ANTHC turned to Williard to create and run a dental therapy training program for the Alaska Native Tribal Health System.
Challenging the Status Quo to Win a Better Solution
Historically, indigenous communities in Alaska had great oral health. Research in the early 1900s highlights that Alaska Native people had, as Williard summarizes, "the healthiest teeth in the world." Evidence indicates an extremely low level of dental disease across the region before the 1920s. According to studies from that period, including work by Dr. Weston Price, indigenous communities' nomadic lifestyle and resulting diet supported their healthy teeth.
But growing western colonization changed that. Increasing in the 1940s, the rise of commercial air travel brought more white people and their products to Alaska – including more refined sugar and starchy food. Greater access to processed foods changed the way of life and eating habits for many people in tribal communities.
Williard explains that, alongside this shift in diet, however, "existing oral hygiene practices were not changed."
Today, Alaska Native and American Indian children aged two to five suffer three times the rate of untreated tooth decay compared to other children across the United States. Oral health disparities in the U.S. are significant, especially for children of color, people living in rural areas, and those with low incomes. Many Alaska Native communities don't have access to clean, fluoridated drinking water from the tap. At the same time, bottled water can be more expensive than sugary drinks like soda or juice.
In 2004, the Rasmuson Foundation invited officials from the American Dental Association (ADA) to visit Bethel, Alaska to witness the unmet need and how dental therapists could make a difference. Three-year-olds were having four teeth pulled at a time in the operating room. Adults with swollen faces needed pain relief from untreated abscesses.
"I was stunned when one dentist said 'all you have to do is fluoridate the water,"' says Williard.
"I was like, oh my God. You just went to a village. You saw the water they use, the children with no front teeth. Do you really think the answer is as simple as fluoridated water? When that's what we've been doing for 50 years?"
In January 2006, the ADA sued the ANTHC, and eight Alaska Native dental therapists, to stop them from providing dental care, especially in rural areas of Alaska, where dentists did not live or practice. The lawsuit was an opening salvo in a battle to retain the status quo -- even as Surgeon General David Satcher declared the United States was in the midst of a silent epidemic of tooth decay that was harming millions of families nationwide.
Valerie Davidson was the ANTHC lawyer who fought the ADA in court, and later served as Alaska's lieutenant governor. "Taking that position, when they were not willing to live and work in our community – that was just offensive," Davidson says, who now leads ANTHC.
At the time of the lawsuit, Paul Sherry was CEO of ANTHC. With Davidson and others in the organization, he remained firmly in support of dental therapy. They decided to take on the ADA.
It was a David vs. Goliath scenario, with a small, underfunded group going up against a longstanding membership organization—one with deep pockets and political connections. According to a 2017 article in The Washington Post, state lawmakers have described the organization as "a political force so unified, so relentless and so thoroughly woven into American communities that its clout rivals that of the gun lobby." The ADA's budget remains nearly $150 million. Their political action committee is still larger than that of the influential American Medical Association.
"The amount of money that the ADA and their constituents have spent to block people's access to care is immoral. They didn't just hurt people, they hurt vulnerable populations," says Williard. "The population that lost out was the exact population that the organization should be helping."
ANTHC won the case. But Williard, the young dentist from Ohio, became a leader in the national dental therapy movement. With funding from the W.K. Kellogg Foundation and the Rasmuson Foundation, the movement began growing and other states saw how dental therapists could help solve their oral health needs. Dental therapists could live and practice in their own communities that lack enough dental providers, making it possible to expand care to communities that never had local access before.
Nationwide momentum for dental therapy
According to the U.S. Health Resources and Services Administration (HRSA), nearly 70 million people live in federally-designated dental health care professional shortage areas. HRSA estimates almost 12,000 more dental providers would be needed to fill the void.
Dental therapists could help fill that gap now.
Williard has worked 20 years to make that possible, fighting opposition from organized dentistry every step of the way. She changed how dental care is provided in Alaska and helped spark a grassroots effort to do the same in the rest of the U.S. She boarded planes to testify before state legislatures; presented evidence of success at oral health conferences; debunked opposition claims; helped create dental therapy curriculum standards; and won accreditation from the Commission of Dental Accreditation (CODA) for the first dental therapy degree program in the U.S. CODA is the official entity that accredits all dental education programs and is housed within the ADA.
"Being able to hear and see the students in their communities and see them helping people get better. That's what won me over," says Williard. "I was going to do whatever I could."
She meant it. Dental therapists are now authorized to practice in 13 states and with several sovereign tribes. Minnesota and Washington also have dental therapy education degree programs. And, several other states are creating programs now.
Dental therapists have brought quality care to more people in previously underserved areas. Their work is reducing wait times for appointments, helping patients keep their natural teeth, and increasing revenue for clinics. Given these gains, over a dozen other states are considering legislation to authorize dental therapists. It wasn't easy.
"Sometimes, you have to do something because it's hard," says Davidson. "When you're the first, it can be excruciating standing there in the bright light of judgement."
A Career Path Centering Equity
Williard recognizes her white privilege afforded her the ability to access opportunities and experiences without the same barriers as others. She also learned from her parents that, because of her privilege, she had an ethical responsibility to give back and to fight against discrimination. This may have given her the audacity to take on organized dentistry. That same privilege enabled her to pursue a less profitable public health dental career than private practice. She didn't have school loans to pay back. She turned down an offer for a secure position in a family friend's private practice to pursue a residency at a city hospital in Charlotte, North Carolina.
"Because of my privilege, I took steps in my career that put me into places where I got to see things I never knew existed," says Williard. "People would come in with these swellings and their teeth and gums would be ravaged by dental disease. They'd say: 'I'm so glad you're here. I can finally get some help.' They were thankful to get a tooth pulled out."
Most dentists practice in metropolitan areas and surrounding suburbs, and most do not take Medicaid payment. Before dental therapists, many people in low-income communities couldn't find care. When people could find a dentist, the provider often didn't look like them. The current dental workforce is 70.2 percent White, compared to 0.2 percent Native American.
Dental therapy has provided people with access to care that is both more affordable and culturally competent. Dental therapists are a viable force to advance oral health equity due, in part, to the profession's educational model.
Since dental therapists focus on a narrow set of commonly needed procedures, they can graduate in less time, and at a lower cost, than it takes to become a dentist. This shorter education track opens career doors for students from non-traditional backgrounds, or those who have faced financial or racist barriers to dental care and economic opportunity. By design, it delivers providers who reflect the communities they serve.
Moving Forward
In September 2021, Williard packed up her family and drove 2,780 miles from Anchorage, Alaska to Coos Bay, Oregon. Confident that dental therapy is well on its way, Williard is ready to pass the torch and do what she first set out to do in Alaska 20 years ago: provide care.
Williard is the director of the Ko-Kwel Wellness Center's new 7-chair dental clinic, which is part of the Coquille Indian Tribe's new holistic community health center. The center is open to Native Americans and non-natives in the Coos Bay region. It offers an array of services from medical to dental, pharmacy, behavioral health, and community and family programs.
As a dentist working alongside a dental therapist, assistant, and hygienist, she has the dental team she always envisioned.
Photo: Dr. Mary Williard with dental therapist Avena Finkbonner at the 2019 Alaska Dental Therapy Education Program graduation. Photo courtesy of the Alaska Dental Therapy Education Program.