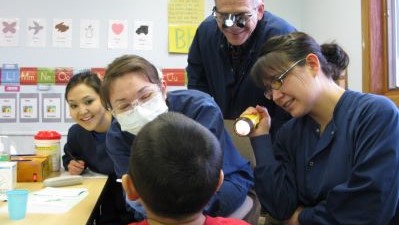 Generations ago, before contact with European colonizers, Alaska Natives had some of the best oral health of any population on the planet[1]. Incidences of dental decay were low in part due to a healthy traditional diet and a strong understanding that oral health significantly impacts overall health. However, colonization introduced many factors that led to the poor oral health outcomes seen in Alaska Native communities and in Tribal nations throughout the United States.
Disparate health outcomes are unconscionable for any population, but they are especially so for American Indian and Alaska Native people considering the federal government's trust and treaty obligations to provide health services to Tribes. As the United States encroached further and further West in the eighteenth and nineteenth centuries, Tribes negotiated treaties with the federal government to provide health and other services to Tribes in exchange for land and peace. This unique political relationship between the Tribes and the federal government has long been recognized in the Constitution, federal statutes, regulations, judicial case law, Presidential executive orders and agency policies, and the general course of dealings between Indian Tribes and the Federal government.
The federal government fulfills its obligation to provide health services to Tribes primarily through the Indian Health Service (IHS), a federal agency within the Department of Health and Human Services. IHS either provides services directly to Tribes or negotiates funding agreements with Tribes that prefer to run their own health programs. In Alaska Native communities—often small and isolated—the Western medical model struggled for years to provide this guaranteed care. Often, inadequate dental care became a source of trauma for Alaska Native people, generation to generation.
Clearly, a better solution was needed.
The Community Health Aide Program (CHAP), operated by the Alaska Tribes with funding from IHS, offered an indigenous solution: empowering members of the community to be frontline providers themselves. CHAP providers receive training and certification to offer medical, behavioral, or dental services. In fact, the first dental therapists in America served Alaska Native communities through CHAP, where they are called Dental Health Aide Therapists or DHATs.
CHAP serves Alaska Native communities, and its potential to serve all of Indian Country, where the Western model of health care delivery has not met the need--is apparent. Congress gave IHS the authority to expand CHAP to Tribes nationwide and IHS is nearly finished with that process.
Once the CHAP expansion takes effect, Tribes in every state with a dental therapy law will be able to utilize DHATs under CHAP. This expansion will support the oral health provider team at IHS and Tribally run dental clinics in Michigan, Arizona, Nevada, New Mexico, Maine, Washington, Montana, Idaho, and Minnesota, as well as other states that implement dental therapy. Tribes will be able to work with IHS to provide CHAP training and certification, expanding the network of dental therapists serving Indian Country.
The day is soon coming when Tribes across the country will be able to use dental therapists to restore and protect their oral health for generations to come.
###
---
[1] Price, W.A. (1939, 2014.) Nutrition and Physical Degeneration. Price-Pottenger Foundation: Lemon Grove