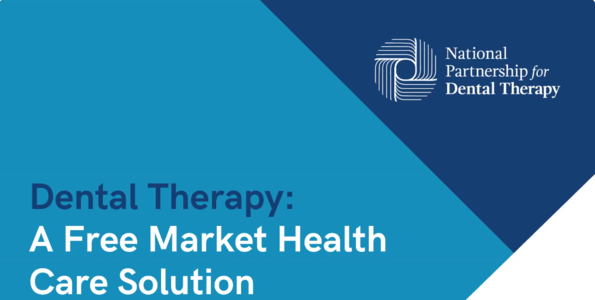 Despite heightened partisanship in Washington, D.C., dental therapy is one issue where state policymakers across the aisle have found common ground. Expanding the oral health team to include dental therapists is a solution to increase access to care that has garnered support from liberal, conservative, progressive and libertarian leaders. In the National Partnership for Dental Therapy's recent webinar, Dental Therapy: A Free Market Health Care Solution, panelists explained why it's an ideal bipartisan strategy to improve America's oral health. Watch the webinar at this link. Below is a look at some of the core principles that speakers asserted throughout their discussion.
Webinar speakers included leaders based in Wisconsin and from national organizations:
Matt Crespin, executive director, Children's Health Alliance of Wisconsin and the Wisconsin Oral Health Coalition
Michael Cannon, director of health policy studies, The Cato Institute
Michael Jahr, senior vice president, The Badger Institute
Laura (Hale) Brannon, senior state advocacy manager, Community Catalyst, who moderated the conversation.
Data is clear that dental therapists add value to communities and the dental team. They improve people's oral health by increasing access to some of the most commonly needed dental services, such as exams, fillings and key preventive care. This is particularly vital in dental deserts, areas where traditional providers are scarce. Nearly 60 million people nationwide and 90 percent of counties in Wisconsin have dentist shortages. The Children's Health Alliance of Wisconsin has noted that even school-based dental programs can't keep up. That is why a bipartisan group of policymakers and over 60 diverse state advocacy groups are supporting legislation to authorize dental therapy in Wisconsin.
From a free market perspective, dental therapy is a common sense solution. Here are three core principles that panelists affirmed during the event:
1. State policymakers shouldn't add unnecessary requirements to becoming a dental therapist that drive up the cost of education and thus the cost of employing a dental therapist. The American Dental Association's Commission on Dental Accreditation (CODA) sets training standards for all dental professions. Its dental therapy standards require providers complete a competency-based program of a minimum of three academic years (or the equivalent if a program uses an alternate calendar). Notably, the standards do not require dental therapists receive any specific degree (e.g. a bachelor's, master's) or also hold any other credential (e.g. a dental hygiene license).
But some states, at the urging of dental or dental hygiene associations, have imposed licensure rules that require dental therapists to hold a master's degree or also complete a dental hygiene degree. These requirements drive up the length and cost of education to become a dental therapist and can price out low-income students and disproportionately affect people of color and American Indian/Alaska Native communities.
A 2018 Trump administration report discussed the issue:
"When state regulators impose excessive entry barriers and undue restrictions on [scope of practice] for particular types of providers, they often are not responding to legitimate consumer protection concerns. There is a risk that healthcare professionals with overlapping skill sets will seek these restrictions; they view [scope of practice] restrictions as an easy, state-sanctioned opportunity to insulate themselves from competition."
Policymakers can protect the public interest by expanding dental therapy with legislation that follows national standards around licensing rules and related policies.
2. State lawmakers should welcome dental therapists who have become licensed and trained in other states. Patients can trust that dental therapists graduating from programs following CODA standards will provide high-quality care. Under these national standards, dental therapists should be able to move between states to practice without facing extra barriers due to licensing rules.
COVID-19 showed us that this can happen safely. During the pandemic, lawmakers lifted barriers to health care by allowing more providers to deliver services across states through telehealth. Today's state-by-state approach to licensing limits access to care. A standardized, national approach to licensing can support a more robust dental health workforce, where dental therapists can practice where they're most needed.
3. Finally, state policymakers must ensure dental therapists can work at the top of their scope so communities get the greatest benefit. State lawmakers and dental boards determine what services dental therapists are allowed to deliver and some states limit dental therapists from offering the full range of care they're trained and qualified to provide. This decreases the availability of care for patients and degrades the overall efficiency and effectiveness of the dental team. Overall, letting health care providers work at the top of their scope increases access to care and lowers costs. The 2018 Trump administration report summarized the issue thusly:
"Oftentimes, too, [scope of practice] restrictions limit provider entry and ability to practice in ways that do not address demonstrable or substantial risks to consumer health and safety. When this happens, these undue restrictions are likely to reduce healthcare competition and harm consumers—including patients, and taxpayers more generally."
4. Dental boards should protect the public, not their own profession's interests.
In most states, dental boards license and regulate the state's dentists, dental hygienists, dental therapists and dental assistants. Dental boards are primarily made up of private practice dentists and often contain minimal representation from the other dental professions, from dentists in public health and from the public. While dental boards are tasked with protecting public safety, their focus can sometimes stray to protecting turf, which is often demonstrated by their reluctance to allow greater scope or flexibility for dental hygienists, therapists or assistants. The 2018 Trump administration report described the issue saying:
"The risk of anti-competitive harm may be even greater when the regulatory board that imposes [scope of practice] restrictions on one occupation is controlled by members of another, overlapping occupation that provides complementary or substitute services, and the board members are themselves active market participants with a financial stake in the outcome."
Our webinar's panelists entered this discussion from different political points of view. But all agreed that dental therapy is a smart, cost-effective solution to expand the dental workforce and meet the incredible need for dental care facing communities across the country.
Writing in 2018 in the Chicago Tribune, Grover Norquist, prominent conservative and tax reform advocate, and Dr. Don Berwick, one of the architects of the Affordable Care Act, wrote:
"Dental therapists would make a big difference in the lives of the many Americans who are struggling to find dental care. As the health care debate continues at the national level, allowing dental therapists to practice is a bipartisan solution that state legislators can adopt right now that benefits small businesses, helps patients and eases the burden of rising health care costs, including Medicaid."

Four years later, dental therapists have spread to several more states but there are still too many states where anti-competitive licensing laws are blocking this evidence-based bipartisan solution.