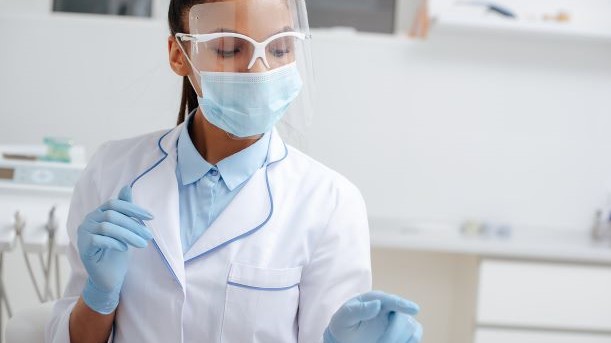 With the onset of the coronavirus pandemic, providing routine and non-urgent oral health services is challenging. Over the past several months, oral health service providers have had to go the extra mile to find creative ways to deliver the care their communities need. In that time, dental therapists have shown that they can uniquely step in and provide care that otherwise might not occur.
Rochelle Ferry, a dental therapist working for a Tribe in Washington State, is currently offering the majority of her clinic's in-person care. She and her supervising dentist alternate days in the clinic to avoid exposure, and on the days she is in the clinic her dentist keeps in touch for remote consultation. Rochelle discussed her experience providing emergency care during this pandemic, mainly extractions and giving anti-biotics. "Toothaches don't stop for a pandemic," she says, "There has to be someone there to provide emergency care. We have maintained the ability to provide dental care throughout the COVID experience." In the position of working with an older dentist, Rochelle has been able to step in, as a dental therapist, and provide necessary services to her community members. For those cases beyond her scope, she is able to refer them to the oral surgeon. Without Rochelle's skillset as a dental therapist, these patients would have had to go without care until the clinic resumed normal operations.
Since the role of dental therapists is to provide mainly routine and preventative care, the majority of their services can be done through teledentistry. The Lummi Nation in Washington State, as mentioned in a recent Community Catalyst webinar, has employed two dental therapists to work alongside two dental hygienists as "runners". These "runners" bring oral health supplies directly to a patient's home, Wi-Fi boosters included. The patient then has a virtual appointment lead by either a dentist or dental therapist. Simple preventative procedures that a provider typically performs in the clinic, like fluoride treatments, oral health education, and evaluations, can be done by the patient through the video appointment. The dental therapist can walk a patient step by step through the procedure. For many patients, in Tribal communities and in the broader population, getting to an oral health clinic right now can be extremely difficult or impossible. With dental therapists providing care through teledentistry, patients who may have not received care now have the opportunity.
A dental therapist can also diagnose an issue over the video call, and if the patient needs to come into Lummi Nation's dental clinic for treatment by a dentist, all necessary information will already be available, streamlining the process and minimizing the amount of time each patient spends in the clinic. This is especially helpful during a pandemic, when reducing exposure to the coronavirus is essential, not only for patients, but for practitioners as well.
The pandemic has placed oral health care providers in a uniquely challenging situation. Dental therapists have shown their irreplaceable ability to provide care to patients in a variety of pandemic-influenced settings. Whether it's delivering care in a limited capacity clinic or walking a patient through a procedure using teledentistry, dental therapists have shown that they strengthen oral health delivery teams immeasurably.