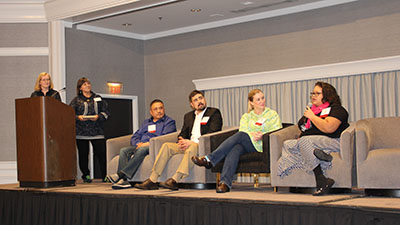 As Native American Heritage Month comes to a close, it's fitting to take a moment to reflect on what dental therapists have meant to Tribal communities thus far, as well as their potential impact going forward.
American Indian/Alaska Native leaders launched the first U.S. based dental therapy program in Alaska in 2004 and have been an integral part of the many programs and initiatives that have followed over the past 15 years.
In many ways, the undeniable momentum of the dental therapy movement today – the profession is authorized in some or all settings in 12 states with statewide legislation being considered in more than a dozen states – can be tied to Tribal leadership.
The first four dental therapists, all Alaska-based Tribal providers, were honored as part of this year's Dental Therapy Convening this month in Portland, Oregon. They were recognized for the courage and leadership they showed through their willingness to step into the unknown and complete training for an entirely new profession all because they saw a need in their Tribes. Their path to providing care was not easy, but they stayed the course with unwavering tenacity because of their desire to make a difference for their communities.
For the past 15 years, Tribal dental therapists have been a critical part of improving overall health and reducing health disparities in our communities, as well as developing a new level of trust and comfort with their patients, many of whom have never had access to care before.
With Tribal dental therapists, patients are more secure because of the natural trust and rapport that exists as a result of having a provider of and for their community. A provider who connects naturally due to their many shared life experiences.
As a result, the benefits of dental therapy for Tribes are about more than just oral health care services. They're about connection, comfort and relatability.
Through dental therapists, Tribal patients are able to overcome their fears of dental care. Three out of every four dental therapists working in Alaska Native communities are from the area they serve. As a result, they can relate to the patients and build a true rapport with them. Even more, children see the potential for themselves through the dental therapists who provide care.
Tribal dental therapists are meeting a very real need. A recent study found that 41% of American Indian/Alaska Native children ages two – five years old had untreated tooth decay as compared to 10% of non-Native children ages two – five years old. According to the Indian Health Service, there are half the number of dentists per capita in Indian Country compared to the national average. Last year alone, only four American Indians/Alaska Natives became dentists nationwide compared to seven American Indian/Alaska Native women who graduated from the dental therapy program in Alaska.
These difference makers are dental therapists like Naomi Petrie of the Confederated Tribes of Coos, Lower Umqua, and Siuslaw Indians. Naomi was a part of the first class of dental therapy students from the Pacific Northwest to study under the Alaska Dental Therapy Program. She entered the program because of her desire to serve her Tribe through health care.
Naomi sees her own patients – with oversight from a local dentist – and collaborates with the Tribe's Head Start program to ensure the Tribe's youth have sealants and the early oral health care they need.
Of her career path, Naomi shares, "I want to set a good example for the children in my community. I have had kids come up to me and tell me they want to be a dental therapist, and that makes it all worth it."